Featured Property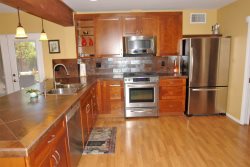 The Enchanting Elm
Guest Reviews
Rincon Villa - This home is a comfortable and spacious 3 bedroom house in a quiet development. We found it very convenient to Mt Lem...
Redington Hideaway - Amazing place ,spacious and clean,tucked in to the hills surrounded by saguaro cactus and away from town!
Ventana Vista condo 1171 - Our stay was very pleasant. The condo is on the edge of town very near Sabino Canyon so it was quiet and...
View More Reviews
Available Properties
Loading Available Properties